Great Food, Good Wine & New Friends await...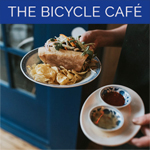 The Bicycle Café is located at 14 Sydenham Street in Flesherton. Their slogan is "the food you've always wanted." They offer a wide variety of alcoholic and non alcoholic beverages. They stock traditional as well as health conscious soft drinks and make simple, classic Italian coffees featuring fresh roasted I Deal Coffee. As for tea, they have a full selection.
519-924-2920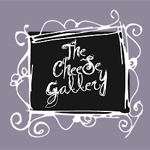 The Cheese Gallery is a cheese shop and tasting bar located at 11 Bruce Street South in Thornbury. They offer cheese, desserts, wine, beer and cider as well as café lunches, coffee and tea.
"From fabulous cheeses, to delectible sweet treats, to mustards and fine oils… our sweet little shop has something for every palete. Drop by to savour the tastes, feel the energy, and experience the art!"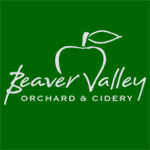 Beaver Valley Orchard & Cidery is located on the Niagara Escarpement in the heart of beautiful Beaver Valley. The cidery and tasting room is housed an an historic post and beam century barn that has been respectfully converted for its new purpose. Tours are available.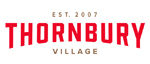 Thornbury Village Cider House & Brewery produces award-winning, premium quality, Ontario craft ciders and beer. Their historic facility is nestled in the famous Blue Mountains in the midst of 7,500 acres of apple orchards.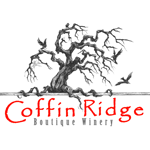 A bold experiment in northern viticulture, Coffin Ridge Vineyard and Winery is located along the beautiful and rugged northern end of the Niagara Escarpment, and boasts a stunning view of Georgian Bay and the islands off Colpoys Bay. A boutique winery by design, Coffin Ridge produces high quality small batch wine, made primarily from hand planted, hand picked Grey County grapes. Tours are available.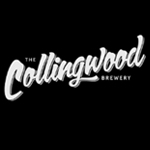 Their slogan is "KICK BACK & RELAX". Who wouldn't want to visit The Collingwood Brewery. It's a Brewery, Taproom and Retail Store located in Collingwood, Ontario. "At The Collingwood Brewery, we celebrate the good things in life. Our beers are crafted from the freshest, all-natural ingredients. We are inspired by classic styles of brewing traditions and aim to create local brews that reflect international flavours from around the world. Come for the beer and stick around for the company."

Georgian Hills Vineyards is as much a destination as it is a producer of wines and ciders. Our tasting room and patio offer fantastic views of the breathtaking Beaver Valley. Linger a while under the birches, or take a tour. From wine to charcuterie, relaxation to adventure, or quiet afternoons to full swing events, Georgian Hills Vineyards has everything you need in a destination.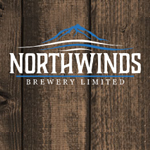 Northwinds Brewery says, "Our extremely talented kitchen takes pride in the food we serve. Year-round, we offer both recognizable comfort food and many things unique. It begins with our ingredients. Georgian Bay, as a region, is one of the top areas in Ontario to cultivate land, so we have ideal farms and businesses from where we source the majority of our ingredients. We're fortunate enough to be in an area where farmers, bakers and meat purveyors personally deliver their products. Our suppliers are directly connected to our dishes and we do our best to promote the hard work that they endure daily."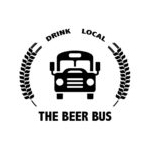 Hop onboard The Beer Bus… Handcrafted Brewery, Winery & Cidery Tours
"If you're simply looking for a fun and easy adventure, then you'll find a friend in us. We offer local beer, wine and cider tours and provide EVERYTHING you'll need: transportation, a guided tour including essential beer, wine and cider facts, on-board snacks and refreshments."
Take a Garden Stroll...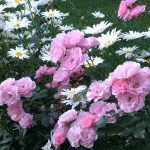 Visitors are invited to visit the beautiful and extensive Froggies Song Garden by Corner Cottage owner, Barbara Weatherall. Enjoy the meandering pathways through the shade gardens, by the rock gardens and water features. This cottage style garden will have you delighted with its unusual specimens of perennials, varieties of hostas, daylilies and roses. You can't help but be delighted by the wee fairy gardens, unexpected and humorous sculptures and breathtaking architectural features.
Take a Swing...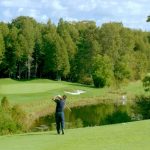 Markdale Golf & Country Club is located 8 minutes from Corner Cottage. This 9-hole course is located in Markdale, Ontario. It features all the hallmarks of Ontario golf coupled with a rich history that dates back to when the course opened in 1964. It's a breezy, brisk jaunt through the lush Ontario forestry. Players will take in some of the finest scenery in Ontario as they complete the Markdale Golf Course.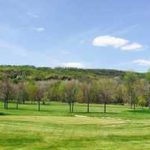 The 9-hole Talisman Golf Course in Kimberley, ON is a resort golf course that opened in 1982. Talisman Golf Course measures 2575 yards from the longest tees. The course features 3 sets of tees for different skill levels. The greens are poa annua grass and the fairways are bluegrass. Talisman Golf Course is located 10 minutes from Corner Cottage.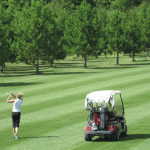 The Ferns is the newest and most spectacular golf course in Grey County. Set in the Rocky Saugeen River Valley, the Ferns has been carved out of a 150 year old hardwood forest. Every hole is treelined. The rough is maintained 80 feet on each side of the fairway, so in most cases you can find your ball! Water is a key feature of our course, which boasts a myriad of water hazards. Our island green is one of our signature holes. Depending on the wind direction, this hole will challenge even the best golfers. Located 30 minutes from Corner Cottage.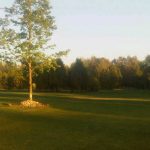 The Townsend Lake Golf Course is located on Town Lake Road a short drive of 25 minutes from Corner Cottage.
Gardens galore...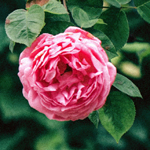 Rural Gardens of Grey and Bruce Counties  (RGGB) invites gardeners to share their expertise and enthusiasm for gardening by opening their gardens to visitors. You can choose from over twenty rural gardens to tour in the Grey and Bruce area. The closest is Froggies Song by Corner Cottage owner, Barbara Weatherall (see below for more info).
Walk, stroll or hike...
Eugenia Falls is situated in the very tiny Village of Eugenia. Eugenia Falls Conservation Area encompasses 23 hectares of Niagara Escarpment, river valley and upland forests. A part of the Grey County Waterfalls Tour. The all-season trail winds along the edge of 'Cuckoo Valley' with excellent views of the 30m high waterfall and loops past a Cenotaph memorial and picnic shelter. These Falls are only 13 minutes from Corner Cottage.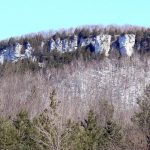 Old Baldy Scenic Lookout After a 15 minute hiking from the parking lot at Old Baldy, you will find yourself at the edge of the Niagara Escarpment looking down 152 metres above the Beaver Valley and the Village of Kimberley. Simply breathtaking! Access to the Bruce Trail at this site. Enjoy these scenic trails 18 minutes from Corner Cottage.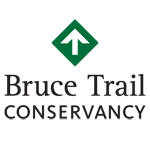 Bruce Trail ~ Beaver Valley Section this section opens up into the large plateau of the Loree Forest above Nottawasaga Bay. Turning south, the Trail then leads to high ground overlooking the Beaver River. Dolostone cliffs are plentiful in this section; Kimberley Rock and Old Baldy stand high above the village of Kimberley. Hoggs Falls is another "not to miss" feature of this section. Hike "the Bruce"  8 minutes from Corner Cottage.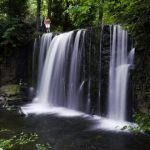 Hogg's Falls is one of Grey County's best kept secrets. Experience these beautiful Falls in the summer or during the winter months by snowshoe. A gorgeous waterfall on the Grey County Waterfall Tour only 8 minutes from Corner Cottage.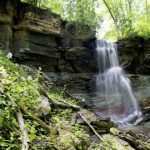 Webwood Falls Nature Reserve is located north of the town of Kimberley which is only 7 minutes from Corner Cottage. Two small streams converge and pass over a significant drop in the Escarpment, creating a spectacular waterfall. The stream continues through a deep, forested river valley that cuts through the southern portion of the property. A diversity of habitats, including regenerating fields, mature Sugar Maple forest and meadow marsh support 261 documented species, including 219 plant species and 42 faunal species; in addition several Species at Risk and provincially and/or federally Endangered species are found on Webwood Falls Nature Reserve. Enjoy nature at its finest only 17 minutes from Corner Cottage.
SKI
At Corner Cottage you are definitely in SKI COUNTRY.
Carve the powder nearby and make a day of it!
Hit the slopes...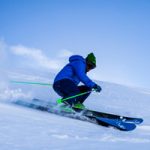 Beaver Valley Ski Club is located 7 minutes from Corner Cottage. Enjoy skiing the winter playground that others have enjoyed for more than fifty years. This private ski club offers short lift lines, uncrowded ski hills and more… a hidden gem for sure.
Where to Skate...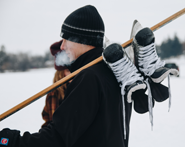 Lake Eugenia is an artificial lake considered to be the "Hidden gem of Grey County". Located in Eugenia, Ontario, the lake is 15 minutes from Corner Cottage. Visit Lake Eugenia for boating in the summer or skate on the outdoor ice rink in winter. Eugenia is a small community in the municipality of Grey Highlands, Grey County, in Southwestern Ontario, Canada, located just north of the community of Flesherton. Due to nearby Lake Eugenia, Eugenia Falls, the Bruce Trail and the ski resorts of the Beaver Valley, it has become a popular tourist destination. Eugenia is just 12 minutes from Corner Cottage.